For your next corporate or office move, trust the professionals at Tender Touch Moving & Storage to complete the job on time and on budget. We invite you to find out why we have become Toronto's preferred commercial moving company!
It can be quite a challenge to relocate an entire office without the assistance of commercial movers. You may lose profits and time if you're unprepared when it comes to moving your firm. Instead, you could rely on a Toronto commercial moving professional to take care of the job, so you can relax and attend to your business needs. Our company is committed to helping you pack and transport your organization's furniture, equipment, and more. Our crew will arrive on site with clean trucks and fully equipped moving trucks with all the proper materials and equipment to ensure that your relocation goes off without any flaws.
On each office relocation, we offer the following services which may vary based on the client's needs.
Pre-move planning
Advice on numbering floor plan setup
Specialized vehicles and equipment
Supply all labour and equipment to complete relocation
Commercial bin rentals and security seals
Packing, unpacking and crating services
Tear down of modular desks and installation service available
Organize pay duty officers where necessary
Move your electronics and computers in specially designed equipment
Pad and wrap antiques and other furniture requiring extensive care
Ensure proper protection of all surrounding structures at both pickup and delivery.
On-site storage
Tender Touch clearly wants to give you the best move possible!
To arrange for an office estimate click here!
We were not exaggerating when we said we could move anything your business needs to just about anywhere in the world. Whether it's moving all of your office fixtures or transporting and installing your specialized equipment or setting up a new location, we have the dedicated team that knows how to handle your commercial moving needs from start to finish.
Commercial Moving Tips
Commercial moves can be challenging. Not only do you need to find a way to get all of your goods safely to its destination, you also need to do so without disrupting the day to day operations of your business. A small interruption in business can be expected, but if you plan your move in advance, you can avoid downtime that could cost you money or even customers.
When it comes to commercial moving, planning is essential. You should begin the planning process at least 2 months prior to your actual moving date. This will give you time to change all of your address and location information, and will also give your customers time to adjust their records as well. While planning your move, consider which departments need to be moved first and with the least disruption.
Tender Touch's commercial moving coordinator will work with a key contact person from your firm to ensure your move is as smooth and hassle free as possible.
If your business needs assistance in planning for and executing an upcoming move, get in touch with the professional office movers at Tender Touch Moving & Storage today. We're available to discuss all aspects of your move and create a plan that works within your timeline and your budget. Call us now at 1-877-836-3378.
Commercial Moving Checklist:
Office items are often moved on their sides so it's important to make sure that all items from inside cabinets, desks and furniture have been safely packed in boxes.
When moving photocopiers and commercial printers, always check first with your service provider to determine if the move will void your warranty, and take the next appropriate steps of action depending on their policies.
Make sure all cords and bits and pieces are secured on electronics. Utilize the appropriate packing materials in their boxes to ensure nothing gets broken. You may also consider labelling which cords go with which devices and which outlets.
Tag and all items that go together for easy assembly at your new location. Ex. "office 1"
Be careful not to over-stuff or under pack boxes to ensure your items are protected. Label all boxes for efficient unpacking.
All computers and electronics must be disconnected and packed before the move.
Be sure to mark all delicate material as fragile.
Make it mandatory that all employees who are moving with the company pack and move all of their own personal items. Let them know that you will not be responsible for any of their lost or stolen items.
Create a floor plan of the new space to let them know where the tagged items should be placed in the new location to streamline the process.
Containers For Packing
1.5 cu. ft. Carton/Book Box:


These boxes are ideal for smaller bits and pieces like manuals, smaller office supplies like hole punches and staplers and much more. Tape must be used to seal these boxes. Dimensions 17″ x 11″ x 10.5″
Business Record Storage:


Just like the box mentioned above, business cartons are about the same size. They also have the added benefit of not needing tape to seal them and they have side handles for easy carrying. Dimensions 15″ x 12″ 10″
Commercial Bins: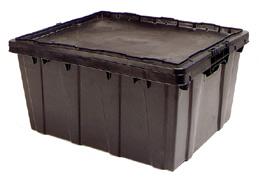 These heavy-duty plastic bins are strong enough to carry some of your heavier items. They are water resistant in case of rain. They can be filled with files, books, contents of desks, telephones, and computers etc. Dimensions 48″ x 24″ x 28″