Moving an office can be challenge. Not only do you need to find a way to get all of your equipment safely to its destination, you also need to do so without disrupting your business. A small interruption in business can be expected, but if you plan your move in advance then you can avoid any continued downtime that can cost you money and perhaps customers.
Planning is important. You should begin the planning process at least 2 months prior to your actual moving day. This will give you time to change all of your information, and it will also give your customers time to adjust their records as well. While planning your move, consider which departments need to be moved first.
You will also need someone to coordinate the moving of the current office and the smooth movement of all departments, and you will need someone to coordinate the incoming equipment and the process of getting everything and everyone in place in the new location. Our moving coordinator will work with that person to ensure the move is as smooth and hassle free as possible.
Commercial Moving Checklist:
Office items are often moved on their sides so it's important to make sure that all items from inside cabinets, desks and furniture have been safely packed in boxes.
When moving photocopiers and commercial printers, always check first with your service provider to determine if the move will void your warranty, and take the next appropriate steps of action depending on their policies.
Make sure all cords and bits and pieces are secured on electronics. Utilize the appropriate packing materials in their boxes to ensure nothing gets broken. You may also consider labelling which cords go with which devices and which outlets.
Tag and all items that go together for easy assembly at your new location. Ex. "office 1"
Be careful not to over-stuff or under pack boxes to ensure your items are protected. Label all boxes for efficient unpacking.
All computers and electronics must be disconnected and packed before the move.
Be sure to mark all delicate material as fragile.
Make it mandatory that all employees who are moving with the company pack and move all of their own personal items. Let them know that you will not be responsible for any of their lost or stolen items.
Create a floor plan of the new space to let them know where the tagged items should be placed in the new location to streamline the process.
Containers For Packing
1.5 cu. ft. Carton/Book Box:


These boxes are ideal for smaller bits and pieces like manuals, smaller office supplies like hole punches and staplers and much more. Tape must be used to seal these boxes. Dimensions 17″ x 11″ x 10.5″
Business Record Storage:


Just like the box mentioned above, business cartons are about the same size. They also have the added benefit of not needing tape to seal them and they have side handles for easy carrying. Dimensions 15″ x 12″ 10″
Commercial Bins: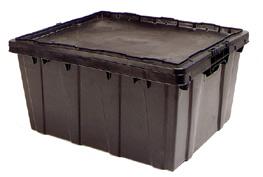 These heavy-duty plastic bins are strong enough to carry some of your heavier items. They are water resistant in case of rain. They can be filled with files, books, contents of desks, telephones, and computers etc. Dimensions 48″ x 24″ x 28″