Being able to play an instrument with which you can express your creativity and create art is truly one of the most wonderful things. Nourishing this skill can really enhance the quality of your life and everyone involved in it. Therefore, it does not come as a surprise that nowadays many people strive towards enriching their daily lives. For this, you would have to have an instrument at home. In this way, you will be able to practice playing it whenever you wish for it. Some musical instruments are quite common in homes, such as guitar or a flute. Other instruments, like pianos, are not that often seen. One of the reasons is that they are bulky and difficult to transport. However, for piano movers Toronto from Tender Touch Moving & Storage Toronto, this is a piece of a cake.
What can Piano movers Toronto help you with?
Considering the fact that pianos are very expensive, as well as delicate musical instrument, you will need someone who has had experience with dealing with them. Look no more, because piano movers Toronto is exactly the team you are looking for. Our company has moved thousands of upright pianos, grand pianos and organs of all shapes and sizes for the residential moving customers, churches, music dealers, and schools. Whether you are moving locally, across the continent, or around the world, all the necessary precautions will be taken to ensure safe arrival. We challenge any piano moving company to offer a more professional service.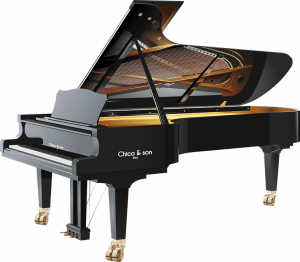 We know how to prepare your piano for moving
As you know now, we have moved thousands of different types of pianos of various sizes and shapes. This classifies us as true experts in this field. Therefore, when piano movers Toronto arrive at your home, they will be sure to look for the easiest path to remove your piano and then prepare their route using clean rubber floor runners to protect all wood, ceramic and carpet floors. Just like with packing fragile items, your piano requires a special approach and an appropriate technique. We simply do not leave anything to chances. We want to make sure that you will receive the top-quality service you are looking for. Expect nothing less from us. Among many other things we will make sure to:
Quickly inspect your piano for any damages prior to the move and bring these to attention. We want all to be transparent as we carry no hidden intentions.
Our movers will then place pads on your piano and securely tape it. In this way, we will secure the whole piano even better. This will minimalize the chances of your piano getting harmed during transportation in a moving vehicle.
If any piece needs to be removed from the unit, like in the case of a baby grand piano, it will be separately padded before being loaded into the truck.
We'll place and secure your piano on special piano moving equipment before transporting it into our truck for safe travel. We will drape it with two more pads and we will double ratchet strap it to the interior for security.
Your piano will be safely transported in our moving vehicles
The next thing we are very proud of is our moving trucks. All our trucks are equipped with several 2 ft wide sheets of plywood, which are useful to ramp steps at the front door or over curbs or place over our rubber floor runners for extremely delicate floors for added protection. In addition, our trucks carry full-size 12ft to 14ft ramps to overcome flights of stairs outside the home. Moreover, all of our trucks had to go through a detailed check to make sure they are in impeccable condition. All possess road buffers so that not even the bumpiest of roads can't do anything to jeopardize the cargo.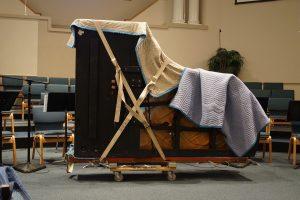 How to calculate the cost of our service
We understand that most of you are concerned about the total price of the service. Because of that, we have decided to give you more information how the cost is being made. The cost of moving a piano is determined by how many people will be required to move it. This is calculated by the size of the piano, access on both ends of your move, which include stairs or multiple flights of stairs, length of walk, turns, landing or corners on stairs, tightness of stairways, entrances or hallways and other obstacles like trees, hills, small cliffs, and rivers – our piano movers battled them all! For a more detailed estimation, you can get a free moving quote on our web page.
Not every piano is equally difficult to transport
Generally speaking, every move which includes piano is complicated in its own way. But Piano Movers Toronto can handle them all.
Main floor to the Main floor
When it comes to the easiest piano move, that would certainly be the main floor to main floor moves. These moves, if you have well-trained movers, can be done really quickly in just 10-15 minutes. The main floor to main floor move may consist of up to a short 4-6 step straight flight outside the home.
Internal moves
These moves also tend to be very quick as well and usually fall within our minimum charge with easy access, from one room to another on the main floor, garage into the home or up or down a flight within the home.
Moving a piano from the basement
Now, this one belongs in the category of a very difficult piano moves. It is mostly due to the fact that most houses have had some renovations since the piano went down and the access is tighter. Any move where a flight of stairs involves a partial landing or pie-shaped step on a turn or where there is a tight turn anywhere along the stairs – top, middle or bottom can be difficult. Curving, low clearance and short landings also bring their own challenges.
All of these situations described will require a minimum of 3 team members on your move. It's important when booking your move you give us the most accurate description of your access at both locations. Where necessary, pianos with difficult access may require a waiver for both the piano and surrounding structures in order to proceed with the move.
As you can see, piano movers Toronto have thought of everything. With us on your team, your precious piano will reach its destination without any damage. In case you require any other Toronto moving services, feel free to look into them. Furthermore, should you have any additional questions call us toll-free at 1-877-836-3378 today!
Does your piano need a little TLC once it reaches its new home? As a third-party service, we can also recommend you additional piano services ranging from expert piano tuning, refinishing, repairs or restoration.
Piano Sizes
Upright Pianos
Full-size 48″ to 54″
Studio 43″ to 47″
Console: 40″ to 43″
Spinet: 36″ to 39″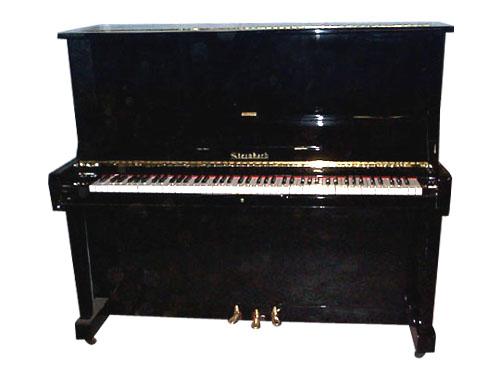 Grand Pianos
Concert Grand: 7′ to 9′
Medium Grand: 5′ to 7′
Baby Grand: 4.5′ to 5′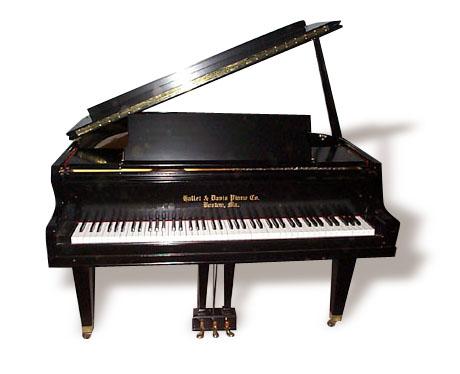 When booking your piano to be moved, be aware that pianos are limited to where they can be placed or moved from due to their size and weight. Our movers will not put their safety in danger.
We only offer disassembly for grand pianos, we do not disassemble uprights instead we can refer a 3rd party service if this is required.