In case you are considering moving to Toronto, you can be sure that your life there would not be monotonous. No matter what your hobbies or preferences are, this city will meet your expectations. Of course, this is a cosmopolitan city and you would need some extra money if you prefer some more refined places. On the other hand, if you would like to save some money, just visit some of the cheaper bars in Toronto. It is needless to say that even though they are cheaper, the quality of their service is quite high. In this way, you will be more economical and also have a great time while enjoying cheap fun in Toronto. Here, we will mention some of the best cheap bars in Toronto and all you have to do is to choose which ones to visit.
Prohibition Gastro House- a bar you can find in two locations
One of the cheap bars in Toronto is Prohibition Gastro House. There are two locations of it, one on Queen East, and the other in Midtown on Eglington Avenue. They have famous Hooch hours during which different deals on beer, wine, and other spirits are offered. The Hooch hour happens two times a day- from 5 to 7 p.m. and from 10 to 11 p.m. For example, during hooch hour, the majority of alcoholic drinks they offer is $5.09. In addition to this, they also have very delicious food. Also, you do not have to worry about whether you will have the food you like for brunch, lunch, dinner or a late snack. They have menus for each of them.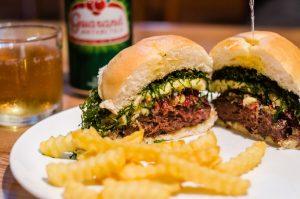 For different deals every day, go to the Wide Open Bar
If you are thinking about moving to Toronto, this bar is one of the things that will make your life there easier. Although the name is slightly misleading since the object itself is quite narrow, their offer is really generous since this is one of the best cheap bars in Toronto. Namely, they offer a variety of drinks, depending on which day of the week it is. For example, on Mondays all drinks cost only $4, on Wednesdays beer is $5, while on Thursdays, between 5 and 8 p.m., everything is $2.75. The offer of the Wide Open is pretty different, especially in comparison to other bars. The vast majority of them do not offer discounts every day.
The Bar With No Name- an old-school bar
This bar is one among many others that nightlife in Toronto has to offer. In it, you can watch sports on every TV, play board games and, what is most important, you have the ability to choose among many different kinds of beer. The sheer volume of craft beer available can really amaze you. But the good thing is that the bartender can offer you a sample of beer. That can help you narrow your choices and, eventually, make a decision. The Bar With No Name is also one of the best cheap bars in Toronto. For example, it offers $12 pitchers on Mondays, $3.50 bottles on Tuesdays, while on your disposal are $5 tall cans on Thursdays.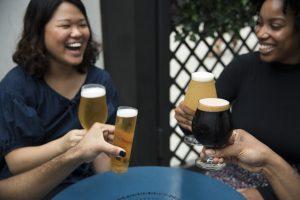 Another among best cheap bars in Toronto is Bistro 422
Bistro 422 is one of the most wallet-friendly bars you can find in Toronto. It is located in College St. and it is well-known among the citizens for its quite low prices. This means that you can purchase all kinds of alcohol- wine, shooters, and beer- for less than $5 per glass. On the other hand, if you prefer having larger amounts of alcohol, the Bistro also has some very appealing offers. To be more precise, you can have a 32oz of your favorite cocktail with the addition of 4oz of liquor for only $12.39. If you think this is amazing, just bear in your mind that there is an even better offer. For that same amount of money, you can get a 60oz pitcher of sangria.
If you are fond of English pubs, Scotland Yard can be your favorite
In case you are thinking about moving from one part of the city to another, just find some affordable movers in Toronto. Old Toronto is a very appealing neighborhood and Scotland Yard bar is an additional reason for moving there. It is an English style pub with a traditional pub menu. Great Guinness stew is at your disposal alongside fish & chips, burgers and daily specials. In addition to this, various other beers are offered there and their prices are different on some days. For example, many bottled beers are $3.53 on Mondays, tall can beers are 2$ off on Tuesdays, while all beer is 5.30 on Sundays.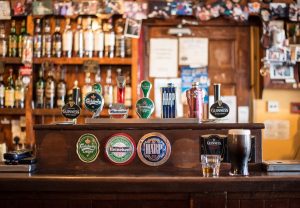 Labyrinth Lounge, favorite among students
Labyrinth Lounge, also known as the Lab, is known for its low-price specials. Namely, they have a discount on drinks every night of the week. Which means that, with it, you can get a drink for less than $5. The Lab also offers some tasty food. There are burgers, french fries, wings and other snacks that go excellent with beer. What is also interesting is the fact that even the food in this bar is not pricy. You can get burgers for  $10, while chicken wings cost $14 a pound with the addition of different sauces. What Labyrinth Lounge offers besides food is a very comfortable interior. Although the bar is almost windowless, it is lightened with chandeliers and little twinkly lights. All of this explains why the Lab is a favorite bar among students.
Toronto is a city that has a rich nightlife and it can brag with a great variety of best cheap bars in Toronto. The only thing you should think about is which of these to visit first. Of course, the quality of their food and beer is not to be questioned. Just see which of these is near you and go there to relax and enjoy everything they have to offer.